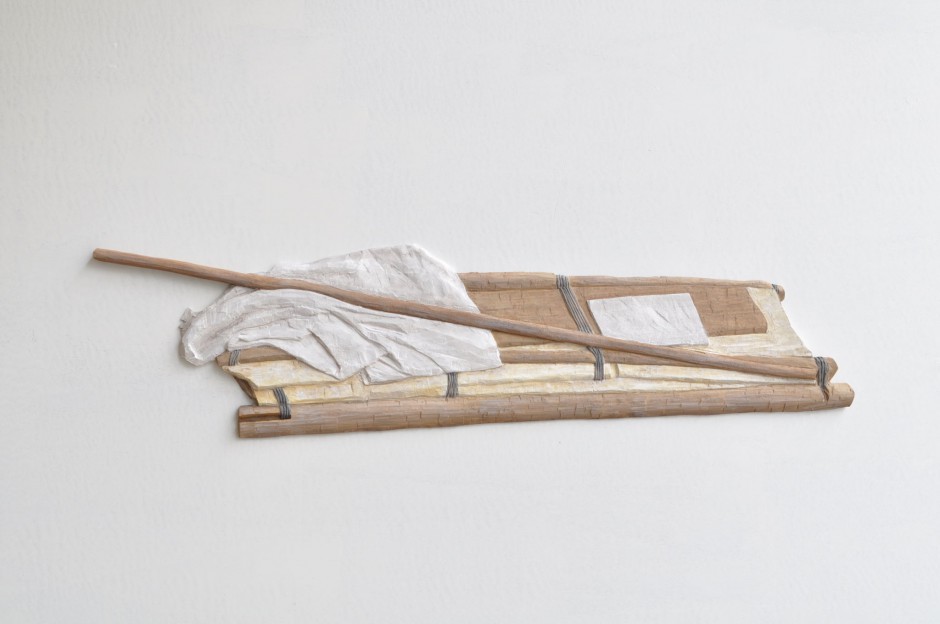 Looking over my shoulder
Martin Schneider
Vernissage 23. Januar 2014, 18-21 Uhr
Ausstellungsdauer: 24. Januar bis 28.Februar 2014
[scroll down for english Version]
Der Hamburger Bildhauer Martin Schneider arbeitet seit über 20 Jahren überwiegend mit industriellem Holz, mit MDF. Es sind tonartig wirkende Reliefs, die da entstehen, koloriert mit Acrylfarbe, meist nicht tiefer als 3 cm, die eine erstaunliche Räumlichkeit und Dichte entfalten. In seiner letzten Einzelausstellung "Obamas People"  war Thema das  Beraterteam von Barack Obama, dem eine Fotostrecke aus dem Stern zugrunde lag. Der Betrachter sah sich in der installativen Präsentation wie auf einer Bühne dem Gremium gleichsam gegenüber.
In "looking over my shoulder" scheinen wir auf Wasser zu blicken. Menschen auf Flößen tauchen aus dem Nichts der weißen Wand auf. Daneben erscheinen auch Tiere, denen man Wasserflaschen umgebunden hat, damit sie nicht untergehen. Hinzu kommen Bunker, die in den USA als Zufluchtsort vor Tornados angeboten werden. Es sind Bilder, die der Katastrophenberichterstattung des Tsunamis in Japan und  Überschwemmungen in China, Pakistan und anderen Ländern entnommen sind, Bilder, die wegen ihrer ikonenhaften Bildanlage oder  –gehalts von Redakteuren ausgewählt und Eingang in die Presse – im Falle der Bunker Werbematerial – bekommen haben. In den Arbeiten von Martin Schneider werden sie weiter gefiltert und zu zeitlosen Metaphern. Es sind Bilder, wie der Künstler sagt, die uns tagtäglich überschwemmen, die ihn teilweise verfolgen und die er so in seinen Arbeiten zu bannen versucht – oder die er zurückholt, damit wir sie nicht vergessen. Was entsteht sind "Prototypen des Menschen, der sich über Wasser halten will". Losgelöst aus ihrem ursprünglich meist gewaltigen Szenario entwickeln sie in diesen Arbeiten eine eigene Würde und Kraft.
Für weiteres Pressematerial stehen wir Ihnen gerne zur Verfügung!
 > Rede Dr. Matthias Schatz (Kunsthistoriker / Journalist)
Opening reception: Thursday, January 23, 2014, 6 to 9 p.m.
For over twenty years, the Hamburg sculptor Martin Schneider has been working predominantly with industrial wood, MDF. His clay-like mural reliefs, which are usually no more than 3 centimeters deep and are tinted with acrylic paint, have an amazing plasticity and density. His most recent solo exhibition at the gallery, entitled Obamas People, was based upon a photo spread in the German illustrated magazine Stern and thematically revolved around the advisory team of US-President Barack Obama. The presidential aides in the artist's installation were facing the viewers as if these were situated upon a stage.
In Looking over my shoulder, we appear to be confronted with a water surface. People on rafts emerge on the white walls as if from a void. Next to these, animals are to be seen upon which water bottles have been attached to keep them from sinking. In addition, bunkers are depicted, which are provided as tornado shelters in the United States. All of these images have been derived from news coverage on catastrophes dealing with the tsunami in Japan and floods in China, Pakistan, and other places, images, which due to their iconographic character or content have been specifically chosen by editors and have found their way into the press, or in the case of the bunkers, into advertising material. In his works, Martin Schneider further filters these images and transforms them into timeless metaphors. As the artist points out, these haunting images flood our minds every day. He attempts to ban them in his works, or to retrieve them in order to keep us from forgetting them. He thus creates "prototypes of people who are trying to keep their heads above water." Detached from their often originally extreme contexts, these are given their very own dignity and strength in his works.
Further press material is available upon request!